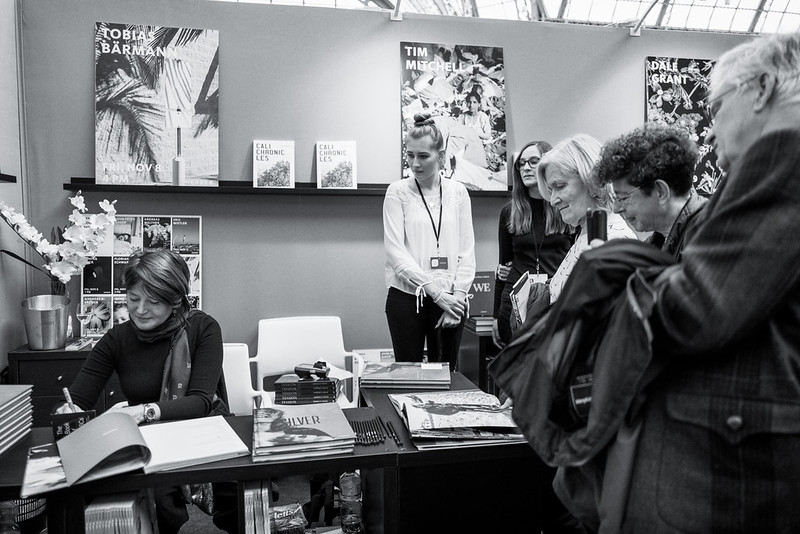 "The general picture we have of older people does not seem to reflect today's 60-70 year-olds at all. Driven by her own feeling of having a 'best before' date, photographer Irene van Nispen Kress examined what it's really like to be older these days. For six years she followed three older women in the intimacy of their day-to-day lives. With the help of her camera, she provided a glimpse into the lives of women who, because of their age, are usually not in the limelight at all. These powerful images and stories illustrate why the passage of time can be a woman's greatest asset."
Although SILVER's first presentation was at PARIS PHOTO at the 9th of November 2019, its worldwide distribution is just getting started. At PARIS PHOTO my publisher KERBER had organized a fantastic book signing. After that, the distribution of SILVER came off the ground. But because KERBER is a german publishing house, the distribution started in the german speaking countries first. This turned out to be a bit inconvenient that even though Amazon.de also supplies the Netherlands, it is not easy to find the book. Fortunately, very enthusiastic people don't let themselves be stopped and find SILVER through my website. 
On the 11th of December, I had a successful book presentation in Museum Hilversum in The Netherlands. Former Dutch minister Hedy d 'Ancona as well as Marieke van der Waal, who both wrote a piece in the book, gave a speech. And that same day I had the opportunity to present Silver on our National television at 'Tijd voor Max' (Time for Max) to the Dutch public. It all was a great experience and a lovely opportunity to spread the word about the existence of my book SILVER and the whole topic of positive ageing.
Amazon.de sold out its first supply and SILVER also got a fantastic review there: 4 stars (out of 5)!!
If you are interested to buy SILVER, according to where you live, you have several options: have a look at the following links:
Apart from at my website, have a look at KERBER, the publisher, it is always in stock:
If you don't want to pay for the shipping costs you can look at:
At Amazon.de
At Bol.com: